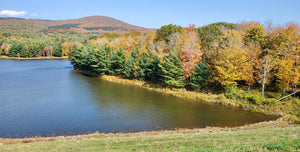 10 Fall Foliage Hikes in the Great Northern Catskills
Kaaterskill Falls: Parking lots fill up fast for this iconic trail to the tallest waterfall* in New York State offering stunning views of the vibrant foliage. Get there early (or mid-week) to beat the crowds and make sure you stop by Camp Catskill afterwards to check out our Kaaterskill Falls T-shirt or Hoodie to commemorate your visit!

North-South Lake: Explore the beautiful loop around North-South Lake, surrounded by colorful trees. A fairly easy hike with amazing views can be had from Sunset Rock on the eastern ledge, or head up to North Point for a bit more elevation and a great view of the lakes.

Huckleberry Point: A medium difficulty hike leading to a scenic overlook with great fall foliage views. Don't miss Plattekill Falls (on the opposite side of Platte Clove Rd) while you're up there!

Escarpment Trail: This trail provides diverse foliage and views as it traverses the Catskill Escarpment. Enter from the north off Rt 23 in Windham, or from the south at North-South Lake (and maybe check out the plane crash at Stoppel Point)

Devil's Path: Some of the most difficult hiking on the East Coast, so this one's for more experienced hikers, but this challenging trail offers incredible autumn scenery. If you time it right, after completing the full 25 miles, you can celebrate with a beer at West Kill Brewery! (We've also got a pretty cool t-shirt for this one.)

Windham High Peak: A favorite starting point for anyone taking on the Catskill 3500 Club Challenge, climb this peak for panoramic views of the Catskills bathed in fall colors.

Indian Head Mountain Loop: Enjoy a moderate hike with breathtaking vistas of the surrounding mountains.

Overlook Mountain: An abandoned hotel in the middle of the woods, a fire tower, and a great view of the Hudson River makes this a top pick for a fantastic view of the changing leaves.

Hunter Mountain: If the steep incline from Becker Hollow (off Rt. 214) isn't your bag, check out the Skyride as a shortcut to the top. Don't miss the firetower while you're up at the top!

Plattekill Mountain: A great spot for foliage, with options for hiking and mountain biking.
Remember to check trail conditions and plan accordingly for a safe and enjoyable hike! As always, visit us in Tannersville if you need anything!
 *At 231', Kaaterskill Falls is the tallest cascading waterfall in New York State. Taughannock Falls is the tallest single drop waterfall in New York at 215'. 
---